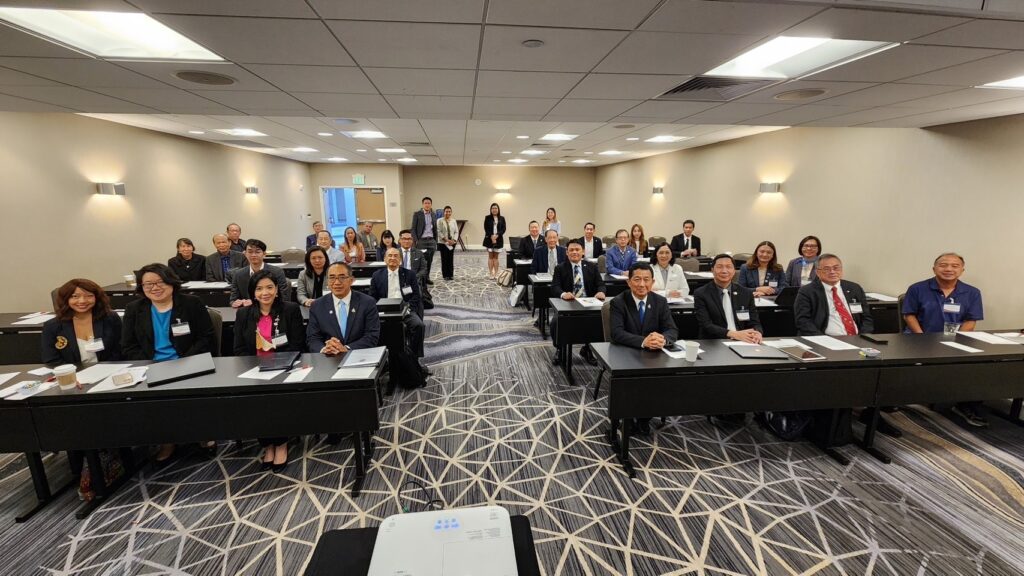 The highly anticipated ATPAC Annual Meeting convened today, bringing together a distinguished assembly of 34 experts representing 11 prominent Thai and American organizations. This gathering showcased a remarkable convergence of talent and expertise across diverse fields, encompassing not only science and technology disciplines such as ATSA and TPAA but also esteemed social science organizations in the United States, including Samakkee, TABA, and NTSAA. The primary objective of this collective endeavor was to forge synergistic partnerships with Thailand's policy-driven agencies, fostering a collaborative environment that transcends the boundaries of individual disciplines.

The ATPAC Annual Meeting, held in Denver in September 2023, witnessed dynamic participation and hands-on engagement among attendees, resulting in the cultivation of a mutual understanding and the formulation of highly effective solutions. These solutions were meticulously crafted in response to the strategic research directives set forth by the US-Thailand Joint Committee Meeting (JCM).

Furthermore, this pivotal gathering has led to the identification of new avenues for research and collaboration between the United States and Thailand. To ensure the successful realization of these opportunities, both Thai agencies and their American counterparts have devised clear, actionable plans for implementation.

The impact of this multi-disciplinary annual meeting extends beyond the sum of its constituent parts, symbolizing a commitment to advancing knowledge, innovation, and cooperation on an international scale.
"The primary goal of this meeting was to develop action plans for implementing the projects discussed during the US-Thailand Joint Committee Meeting (JCM) in June 2023. After discussing with Program Management Unit for Human Resources & Institutional Development,Research and Innovation (PMU-B) The meeting achieved success by producing action plans in key areas, including:
1. Carbon capture: Establishing a US-Thailand consortium to address climate change mitigation.
2. Human resource development for water resource management under climate variability: Preparing for submission to the Department of Groundwater Resources via OHESDC.
3. Effective water reuse: Preparing for submission to the National Resource Council Thailand through OHESDC.
4. PFAS detection and quantification: Preparing for submission to the Foreign Agricultural Office via OHESDC. These action plans represent significant progress in advancing collaborative efforts between the US and Thailand." – Dr. Methi Wecharatana, ATPAC President
The action plans resulting from this meeting are shown below with a link to the source files.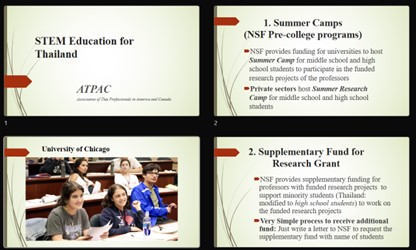 Download the Presentation "STEM Education for Thailand"